T8 Bulbs Explained
Tips For Buying T8 Bulbs
For too long, fluorescent lamps were the sole option for low-energy recessed lighting. Fortunately, LED technology has grown and developed, resulting in fundamental changes in the lighting industry. Now, you can replace old fluorescent tubes with LED tubes without replacing the entire housing.
LED tube lights generally come in lengths ranging from 2 to 8 feet and can take the place of fluorescent lights in both parabolic and indirect light fixtures. They perform well in areas with uniform ceiling heights, such as storage areas, fabrication floors, and auto garages. They make an excellent energy-efficient replacement for fluorescent tubes and are available individually or by the case.
LED tubes also feature enhanced color rendering, turn on quickly, and reach maximum brightness with no flickering. Finally, their long life—up to 100,000 hours—means less time, expense, and hassle spent on maintenance and replacement.
What Are T8 Bulbs?
T8 bulbs are a more popular form of LED tube used across various industries and buildings. The "T" refers to its tube-shaped characteristic, and the "8" refers to its diameter in eighths of an inch. In short, a T8 bulb is an LED tube lamp that measures one inch across.
Instead of using mercury-vapor gas and a large amount of electricity to create light, LED T8 light bulbs use an array of LED diodes in place of the gas and the phosphor coating found in traditional fluorescent lamps.
T8 bulbs come with either bi-pin or single-pin bases that can plug directly into matching light fixture sockets. This makes them simple to retrofit into existing lighting setups in many offices and warehouses. Unlike alternative LED tube lights, such as the T5 or T12, T8 bulbs do not require specialty fixtures. They can be used as direct plug-and-play replacements without any fixture rewiring, and they can operate off the existing fluorescent ballast.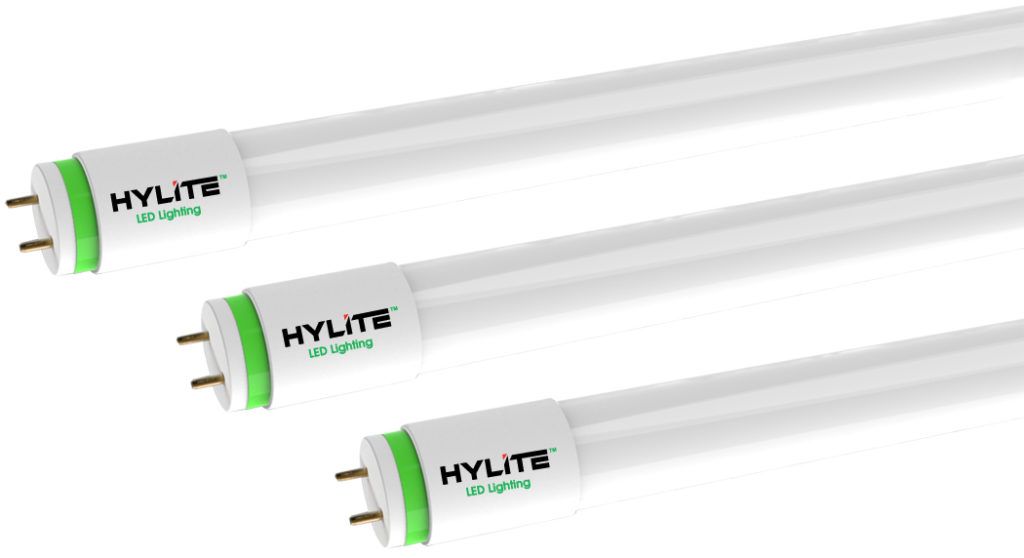 Types of T8 Bulbs
The T8 LED tubes come in four primary classifications:
T8 LED Type A (direct-fit)
T8 LED Type B (ballast bypass)
T8 LED Type A/B (hybrid with integrated heat sensor)
T8 LED Type C (requires remote power supply)
Type A is popular for its price and ease of installation but functions better when the fluorescent light ballasts are replaced with new ones. This will avoid early burnout and extra costs due to replacements.
Many people find that LED Type B bulbs are preferable to Type A. Type B bypasses the ballast and brings electricity directly to the socket—containing an internal power supply. The "double-ended" Type B requires only bypassing the ballast and not rewiring any existing connections.
The Type A/B hybrid tube is a newer type that features integrated circuitry to recognize the presence of any unusual heat. When excess heat is realized, the circuitry immediately directs the tube to shut off. This is a significant safety feature where fire is of great concern.
The Type C tube requires a remote power supply to light the tubes. This removes the potential for electrical shocks and allows for dimming options. This type can be more expensive than the others because of the remote power supply. But if dimming features are essential to the setting, it's well worth the cost.
HyLite Lighting Solutions
T8 LED bulbs can make your lighting more effective and cost-efficient and free you from the hassles of old-fashioned fluorescent lights.
Find out more about how HyLite can help with your lighting needs by reviewing the many solutions we offer. Fill out a form to speak to a lighting specialist!