Affordable LED Lighting Solutions for Outdoor Applications
Budget-Friendly LED Lighting Options
Whether you are lighting a street or adding security lighting to your facility, the right lighting solution is necessary to keep costs down and the lights on. LED lighting makes a cost-effective option to shine bright, clear light without driving up your energy bills. HyLite LED's Intigo Omni-Directional lamps are ideal for a wide range of outdoor applications. If you are looking to reduce your maintenance costs and improve the lighting at your facility, consider HyLite LED Intigo Omni-Directional Lamps.
Highly Energy Efficient Lighting for Outdoor Applications
One of the benefits of choosing HyLite LED Intigo Omni-Directional Lamps for your outdoor lighting is the high efficiency of these lamps. The lamps can give you up to 80% energy savings when used to replace metal halide or high-pressure sodium lamps, and 64% when switching from CFL light bulbs. Also, these lamps burn for up to 60,000 hours, so you will spend less time and energy replacing bulbs. Lowering your energy costs and your power consumption combines to make this an efficient, cost-effective solution for your outdoor lighting needs.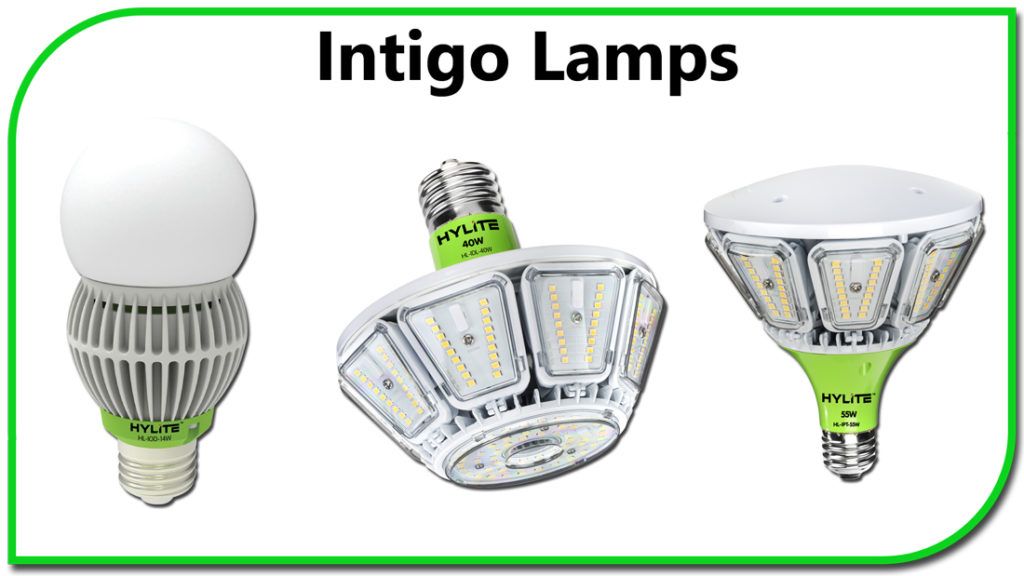 Ideal Lighting for Damp Outdoor Environments
HyLite LED Intigo Omni-Directional Lamps are designed for use in enclosed fixtures. They have a heat sink built in to help with thermal management, leading to cool operation. The isolated circuit design is safe and withstands the elements well, making this lamp work well in damp environments.
Because it is designed for enclosed fixtures, the HyLite LED Intigo Omni-Directional lamp is ideal for:
It is completely protected from dust infiltration and splashed water, making it a durable, effective lighting option for your outdoor needs.
Bright, Clear Light Shined in Many Directions
Another reason to consider these omni-directional LED lights is the clear light they provide. Because they are LED lights, they offer instant-on and instant re-strike capabilities. This is incredibly helpful in security lighting or safety scenarios, such as walkway lighting. You do not have to wait for the lights to "light up" to achieve full illumination.
The omni-directional light has a 360-degree beam angle and can be mounted base up, down, or sideways. This means you can have the light shine exactly where it is needed without being limited by a narrow beam angle. And, because of the long potential lifespan, you are at less of a risk of a bulb failing and leaving a dark, vulnerable area in your space.
Outdoor applications require the right lighting if you are looking to balance lighting quality with efficiency, choose omni-directional LED lights from HyLite LED. Reach out today to learn more about these lamps and how they can benefit your facility.